Gary Stafford's Pro Shop
Gary is a member of the Foremost Golf Group with over 600 members which helps us to be able to offer competitive prices and a wide range of golf equipment.
The Pro Shop at Burton is considered to be one of the finest stocked Pro Shops in the area, offering a wide range from the industry's leading brands.
The Pro Shop is open 7 days a week and a warm, friendly welcome is guaranteed from Gary and his team to members and visitors alike.
Gary and Ben offer a CUSTOM FITTING facility on Ping golf clubs and throughout the year Gary organises Ping and Cobra fitting days.
THE LATEST COBRA 2023 PRODUCTS
F9 IRONS AND WOODS PLUS THE ONE LENGTH IRONS WILL BE AVAILABLE TO USE
LADIES AND GENTS RIGHT AND LEFT-HANDED DEMO CLUBS WILL ALL BE AVAILABLE
ALL MEMBERS AND GUESTS ARE WELCOME TO TRY THE NEW PRODUCT
THERE ARE A LIMITED NUMBER OF FITTING TIMES AVAILABLE (TRACKMAN IS USED ON THE DAY)
PLEASE CONTACT THE PRO SHOP TO RESERVE A FITTING TIME
The shop offers a new range of Puma, Footjoy and Ping range of Gents clothing. The shop also has a large range of Ladies' clothing Glenmuir, Island Green and Puma.
The Pro Shop can organise your golf day to include golf clinics on the practice ground, prize or Shop vouchers.
Meet the Team
Gary Stafford - P.G.A. Head Professional
Level 3 Coach & Fellow of the P.G.A.
Gary Stafford our highly respected head golf professional has been the club professional at Burton since January 1992.
In 2023 reached the milestone of being a P.G.A Professional Golfer for 41 Years.
In 2017 Gary had the honour of being elected as a Fellow Professional of the P.G.A, this is the third highest honour within the P.G.A, making Gary a member of a small but elite band of professional golfers to reach this achievement.
Gary has been Captain of the Derbyshire P.G.A and in 1994 was elected Captain of the Midland P.G.A
Vastly experienced in his role Gary along with the Pro Shop Team control the management of the 1st Tee.
Run the day-to-day club competitions organised by the club.
One of Gary's many roles is coordinating and organising all the many societies that play at Burton, from booking the day, score cards, nearest the pins and finalising the results.
Playing Career
Gary has had a very successful playing career as a professional golfer. He represented Great Britain & Ireland, playing against the U.S.A in 1988. Playing in the P.G.A Cup (The Club Pro's version of the Ryder Cup).
Gary had several top ten finishes in the Club Professional Championship between 1986 and 1992, finishing runner up in 1990.
He was twice runner up in the European Club Professionals Championship in Holland, during this period this made Gary one of the leading Club Professional Players in the country.
Gary has played in several European Tour events.
Gary has played in 2 British Opens 1988 at Royal Lytham and St Anne where he made the cut playing all 4 rounds. 1995 St Andrews.
Gary was a leading player in the Midland Region P.G.A for many years winning the Midland Professional Championship 1990.
In 1988 Gary was awarded the Professional Golfer of the Year in recognition of his success on the golf course.
Gary has been the Professional Champion in both Lincolnshire and Derbyshire
Gary has won many Pro-Am's and was at one time course record holder at the Forest of Arden Golf and Country Club, Enville Golf Club along with many more.
Ben Jenks - P.G.A. Assistant Professional
Level 2 Coach
Ben joined the Professional shop team in July 2018 having been a junior member of Burton Golf Club, attaining a plus 1 handicap.
Ben turned professional in 2016 becoming the assistant professional at Buckingham Golf Club.
As well as his many roles in the Professional Shop he will be coaching the Junior group sessions.
Ben will be representing the golf club in Derbyshire, Midland and National PGA Events, any member wishing to play in Pro-Am Events or support Ben please contact him in the shop.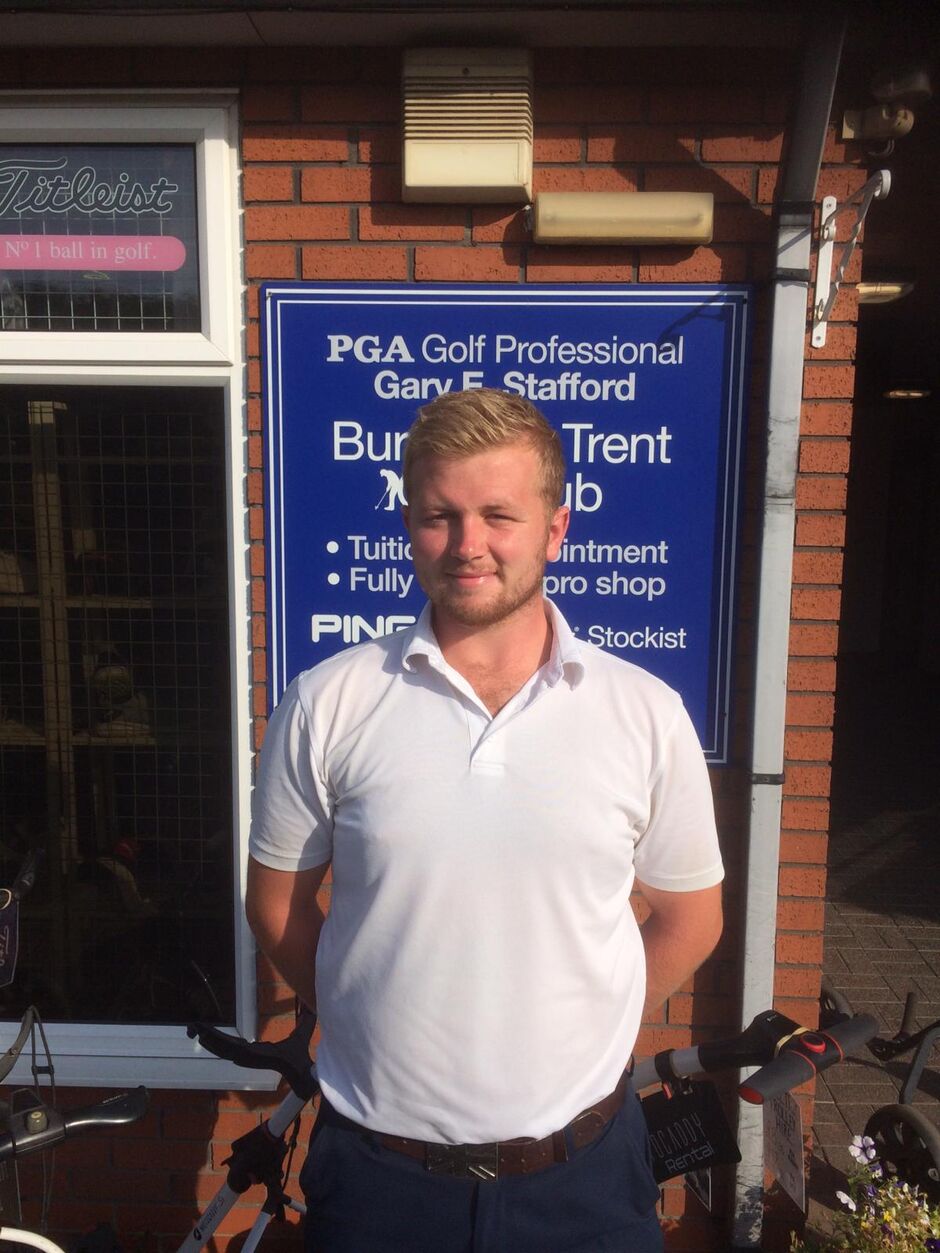 Linda Stafford - Company Secretary
Linda (Wife of Gary) started working in the Pro Shop in 2001 bringing her accounting skills into practice.
Linda Started to Develop the ladies' clothing section which is now the envy of so many golf shops across the midlands. Linda is a valued member of the Pro Shop team and the Golf Club.
Coaching
Gary's lesson philosophy is "keep it simple" Gary works on 7 key stages (or steps) of the golf swing.
With nearly 40 years of coaching experience, developing his ideas on how he feels the golf swing works.
Gary works with all levels of golfers, Individual lessons (1 to 1) and lesson packages are available to suit the golfers needs.
Small group lessons are also available.
Junior Coaching
Group junior lessons are given throughout the year with the aim to increase participation and create a pathway for young people to learn how to play golf in a friendly welcoming environment.
Junior Coaching takes place every Saturday morning.
Currently there are two one-hour classes at 9:30am and 11am respectively. These sessions are open to all juniors, members and non-members.
The junior coaching is aimed to encourage participation, to have fun whilst learning to play golf and enable junior golfer to gain a golfing handicap.
Gary along with Simon Parsons (Junior Academy Organiser) and Craig Histed his able assistant is the team that coordinate coaching, run competitions, and look after the Burton on Trent Golf Club Junior Academy.
Ladies Group Coaching Sessions
Throughout the year Gary also run's Ladies group lessons, this is a great way to promote and introduce the game of golf to Ladies.
These lessons are developed to encourage ladies who have never played before or have a limited experience of playing golf.
Gary runs courses looking at all aspects of golf before taking the ladies out onto the golf course.
On completion of this course of ladies lessons the ladies will be offered a Pathway towards membership.
Individual Group Coaching
Gary Stafford Head P.G.A. Professional
| | |
| --- | --- |
| 45 Min Lesson | £35.00 |
| 3 x 45 Min Lessons | £90.00 |
| 6 x 45 Min Lessons | £175.00 |
| 9 Hole Playing Lesson | £50.00 |
Ben Jenks
| | |
| --- | --- |
| 45 Min Lesson | £25.00 |
| 3 x 45 Min Lessons | £65.00 |
To contact Gary please find below his details.
Pro Shop – 01283 544551 Ext5
Mobile – 07904 162942
Email – Stafford.gl12@gmail.com